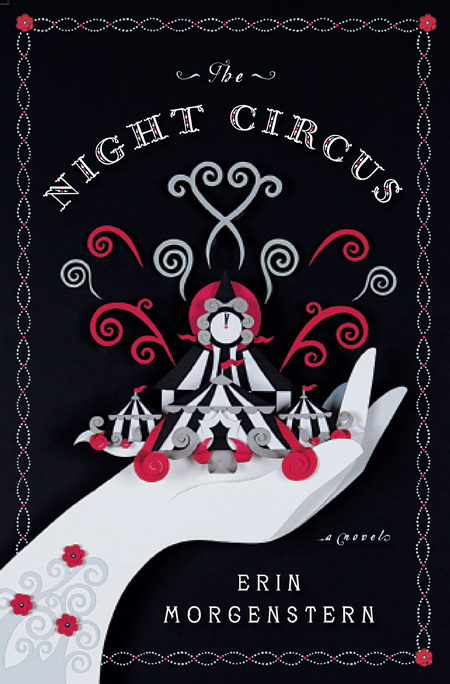 Working on world building? Do I have the book for you!
I don't believe it's just in NYC--it would seem everyone, everywhere, is talking about
The Night Circus
and how it is the best book that ever happened to them. Ever. Like, whoa. Accelerate the presses and pre-order the DVD of the movie adaptation that hasn't been made yet. OMG. Can't wait. Squee, squee, squee.
(Yes, I realize I sound like the circus Grinch. I actually also had my first incident of boot-on-subway-door violence today. Not a swift kick, but still. And not to worry, everything was fine. I was not charged with, say, defacement of public property. No doors were dented. And you would have been miffed, too, if the subway doors didn't open for thirty full seconds, thus preventing you from transferring to the express train across the platform.)
I first heard about the book at this year's BEA--and remembered it because it came with a free bag of (perfectly fine--I can hardly expect anyone to give out hundreds of bags of, say, the Jacques Torres caramel corn with dark chocolate) popcorn that sat in our office freezer for weeks. Edible advertising. Excellent.
And I finally sat down to read it last week.
The world Morgenstern has created is extraordinary. The book's design is, fittingly, gorgeous--even if the interior stripes can make one dizzy after too much staring. And this is the prettiest book world I've seen in a very long time. It's Victorians, travel, an enchanted night circus, and confections that the Food Network can only dream about. It's enjoyable. It's vivid. I won't soon forget it. I loved the twins, Bailey, the magic kittens, the imagery.
As an added bonus, it reminds you of words like "exsanguination" in a manner that prevents their future relegation to second-string vocabulary. Yes, you too can have conversations like this:
Me to a friend this weekend
: I was dumb and put my red sneakers in the washer. Now they look exsanguinated.
My friend
: ...
*
Why, then, did I nearly put the book down without finishing it?
I did finish--and I'm glad I did--but then I saw on GoodReads that there's a vocal minority that can't stand the work for the simple fact that it's approximately 80 percent description.
This stuff costs $8.50 a bag. And, even on my publishing budget, I think it's worth every artery-clogging penny. Yes. It's that good.
So. How do you know if the work will annoy or enchant you?
Think of its emphasis as divided up like a circus candy apple:
Extraordinary world building/atmosphere/concept--the apple
Writing--still quite good, mind you--the caramel
Characters--the candies stuck into the caramel on the apple
Plot--the thin popsicle stick that will probably break before you finish said apple
Will that work for you? Maybe.
Or, if you liked
The Science of Sleep
--which is, like
The Night Circus
, pretty much (and I'm not giving away anything here that you can't assume from the book jacket) Boy meets Girl, Boy and Girl explore strange magical world, Boy loses Girl, Boy gets Girl back through magical means, The End (or, in TSoS's case, Fin). One contains Le Cirque des Rêves; the other, La Science des rêves.
I confess I prefer the latter to the former--even though I think most (if not all) things Victorian are very pretty.
If you're especially fond of magic, circuses, Victorian items, you'll probably like this.
If you require pat, perfectly pinned down resolutions, explanations, and plot points, you may not.
If you're a fan of impossible love stories in any form, put this on your TBR list.
If you're a linear thinker and need linear narrative, this is not good for you. I went back and forth about the book's ordering, and have since concluded that it's necessary, even if it requires some flipping back and forth to figure out what happened when.
Tell me what you think. I can honestly see both points of view.
Also, it's possible I'll wake up tomorrow on the other side of the bed, start clamoring for sooner movie release date, proclaim myself a rêveur, start selling scarlet scarves on Etsy, and whisper sweet nothings to subway doors. You never know.