One of my cleverest writing pals put this up as her Facebook status this week, inspiring a stream of clever and cringeworthy replies:
Also it's the reign of terror. Not the rain.
I got an email yesterday saying "bare with me."
I once had a student, thinking of royalty, write "Your Hinus," which made me think he was referring to...
I find "baited breath" is entirely appropriate relating to fishing stories that feature a worm-eating protagonist.
It's important to get this right. After all, it's a doggie dog world out there.
I've said many times that few (in fact, I would reckon, no) agents will reject you for a misplaced comma on, say, page 57. Your first few pages should be perfect--but, once we're into the story, a tiny error won't bother most of us--it's easier, after all, to fix a comma than a concept. You should do your best, but ultimately these are relatively easy changes.
That said, will we respect you more if your prose is not only artful but--well--technically perfect? If we know we won't have to go line-by-line over your work before it's ready to send out?
You can bet your baited breath.
Happily,
Grammar Girl
--perhaps you've seen earlier posts where I've praised her wit and helpfulness--has generously offered three books to GK readers: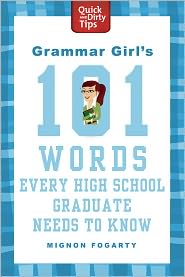 But wait, there's more! (Yes, I double as a game show hostess.)

Included with your book, you'll receive treats from NYC. I'll send a questionnaire to better guess your tastes, and you'll get not only a useful book, but a treat to eat while reading.

First prize: First choice of the books, plus a small NYC goodie bag.

Second prize: Second choice of the books, plus a treat.

Third prize: Third choice, plus a treat.
Here's how you win (and Snarky, assuming I can pull him away from his Maker's, and I will be your judges): Tell us a true story (in the comments) of an amusing written error. Doesn't have to be your own. With your entry, include your preferences (in order) for the books, and a link to a post (either Twitter or on your blog) linking to (and commenting on) a GK post of your choosing--anything since the humble beginnings of this blog three years ago. Include your email address in person (at) domain (dot) com form.

Deadline for entries is Friday, August 5. Winners will be announced the following Monday.