I have a partial out with the original version. My only partial and its the first 50 pages. My CP's agree this opening is stronger and [fits better within the genre].
[Here, the author of this email has included a snippet of her new version which is, yes, stronger than the first one. What do you do if you don't have an agent to look at this for you and let you know? Well...]

Since I have changed my opening do I send the new version out to the agent who has my partial? How does that look? Like I am an idiot who queried too soon? A loon? Don't answer that one.

Okay, here's what you do. You get ONE of these per agent per submission, so use it wisely.

Write a brief note saying that, at the suggestion of your critique partners (you MUST give a reason, or it will look silly--other good possible reasons: some famous writer/non-famous but published writer/an agent/an editor gave you an idea) you've changed the beginning of the work. Apologize (though not too much) for the inconvenience, but mention that, if they haven't seen the original version, a new version is available. Since it's having to do with the beginning (and I like this segment you've attached--it's confidence-inspiring), paste the little snippet below the note. Say, again, how much you appreciate your time and that, either way, you look forward to hearing from them.

Here's what you don't do: don't go on for pages about how sorry you are, don't go into great detail about the changes, don't ask them if it makes you sound like a loon (GK's mail is more amusing than theirs--some older agents may not appreciate the humor), don't ask them WHY they haven't gotten back to the first version yet--but, hey, I guess that's good, right?--don't, you know, just send it--and then send another version--and another version--and another...

We know you're human, and we know that written pieces are always in flux. I've never, ever, ever come even close to sending something out to editors that's the same as it was when it came into the office. We're part of the process.

We like it when writers are happy to revise.

So, are you in an ideal situation? No. Will it be okay? Yes.

Okiedokie (roasted) artichokie?*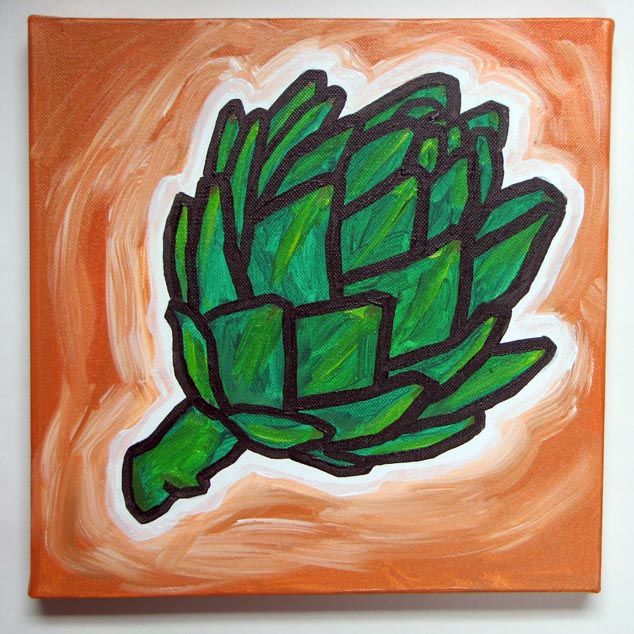 * Full disclosure: GK has not tried this recipe. But it sure looks good. And there was a bit of a disaster making Earl Grey vodka drinks for book group: the simple syrup seized in the cold vodka/half and half/lemon juice mixture, making a clumpy mess--but one that would have, if I'd had more time, made excellent sugar sculptures. (It all ended up okay, though: I just added sugar, and served the remaining strained mixture in a tiny teapot.)
However, in a much earlier (mini-GK!) life, I have grown artichokes. They are delightful. And an excellent excuse for mayonnaise.